dining
Experience Dinner At Hilltoppers!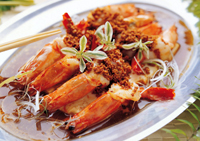 Fresh, Refined and Enjoyable. Drawing both inspiration and purpose from its location in rural Central Ohio, the Hilltoppers Kitchen at The Inn at Dresden seeks to provide its guests with an unparalleled dining experience.

Chef Burke Madigan brings years of experience and expertise to the Inn. He has a refined approach to Cajun cuisine keeping to traditional and classical preparations. Burke draws much of his culinary knowledge from his many years working at Madigan's in New Orleans, as well as Madigan's restaurant in New York. He has a passionate and straight-forward philosophy in the kitchen and uses only the freshest, finest ingredients available, which are sourced from local herb and organic vegetable gardens, wild-range egg producers and local bakeries.

An evening wine reception precedes dinner. Feel free to bring a bottle of your favorite wine to enjoy with dinner.
An optional dinner, by reservation, is served in the evening, for our guests. We do one sitting which starts between 6:30-6:45 p.m. following our wine and cheese reception.
Advanced notice is needed, so please call to make your reservation and dinner selection. Contact us directly at The Inn at Dresden at 740-754-1122.
Special evening dinner events are open to the public only as advertised.